AMOY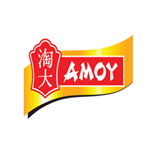 AMOY company was founded in 1908. The company operates with a rigor and emphasis on quality and reliability of the brand for generations, and has established its place among the top manufacturers of sauces and food products in the world.
During more than a hundred years of history, this brand strengthen and enhanced by a crowd of loyal consumers in Hong Kong, where the company was founded and has adapted its tastes for a needs of the customers and for the requirements of retail and institutional markets.
AMOY company maintains leading quality and flavors, by manufacturing according to international standards.
The company constantly explores and develops new products and conducts taste tests to evaluate and select new flavors and to meet the expectations and requirements of the target audience. It is an ambition to provide diversity and new and innovative products to suit customer tastes and changing market needs.
AMOY company is an international company with offices and representatives worldwide, and in 2006 it became a part of the world's largest Japanese corporation AJINOMOTO.