GOGI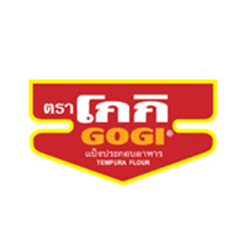 GOGI is the first tempura flour in Thailand, which is produced by Malinee Food Products Co. Ltd, and was established by Mrs. Malinee Chomcherngpat since 1973 with capital 2,000,000 baht.
At first, we started it as a family business, after that our production line is developed all the time since first established. This is because of market expansion and steadily increased in the demand. Therefore, to raise our capacity for supporting demand; an auto-machine, which can produces more with less time used, were used for satisfying the increasing demand; especially provide them with high-quality products. We assure our quality by base on the concepts outlined in the international standard. To assure that the customers always obtain safe and uniform-quality products, world recognized standards and quality management systems such as Good Manufacturing Practice (GMP), Hazard Analysis and Critical Control Point (HACCP), Halal and ISO9001:2000 are in place.
Result of our management on well-maintained facilities and equipment, strictly controlled process steps and effective training for personnel at all levels reflect in many certificates we have received. All of those are mentioned above are made us to be the leader in Thai market with more than eighty percent of market share, including made GOGI brand as a generic name of the tempura flour.