YAMASA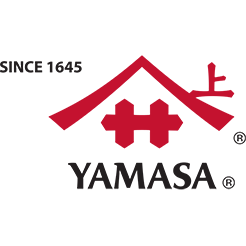 Soy sauce brewery "YAMASA" was founded in 1645 in Japan by the Gihei Hamaguchi and his descendants run the company today.
Soy sauce was created in the Middle Ages in Japan after Chinese priest Imported a recipe for mashed soybeans, but due to an incorrect mixing a watery sauce was formed. The sauce is produced by a natural maturation process of the six-month length by the centuries-old tradition and includes 100% natural ingredients: soybeans, wheat, salt and water.
In 1864 the YAMASA sauce was crowned as a highest quality soy sauce by the Japanese government, and in 1895 the YAMASA company was elected as soy sauce official supplier of the Japanese emperor.
Today, the "YAMASA" company exports its soy sauce to 50 countries, and owns factories in Japan, United States and Thailand. Both YAMASA's factories in Japan are spread over 230,000 square meters.
The aroma, the taste and the color of soy sauce presents in all dishes of Japanese cuisine. Japanese use soy as Westerners use salt. The role of soy is to enrich flavors and emphasize the fifth taste "Umami", which is Japanese means "delicious".
"YAMASA" soy sauce is the choice of professionals! Therefore, "YAMASA" soy sauce occupies 65.6% of the professional institutions market, i.e. chefs and restaurants in Tokyo.