Salomon cooked in Soy sauce topped with pecans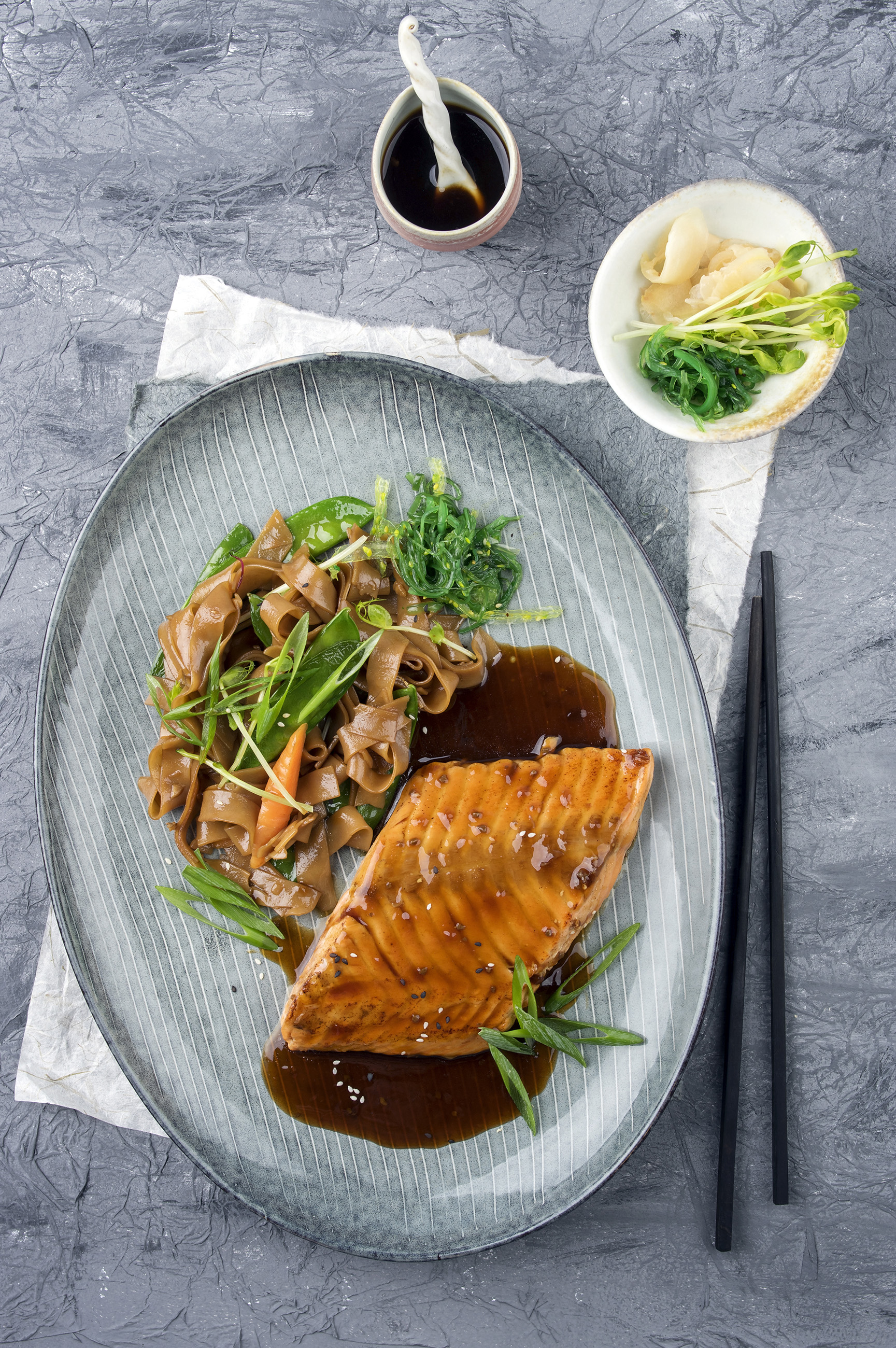 4 People
Recipe: Chef Charlie Padida, "Olive Leaf" restaurant
Ingredients
480 g Salmon fillet
120 g Pecans (peeled and thinly sliced).
For Salad:
1 Asparagus (Cut along its length) with peeler 1/2 peeled Carrot along its length with peeler
2 Cherry Tomatoes, sliced 4 each
8 Coriander leaves for garnish
The Juice of 1/2 Lemon
1 tablespoon Oil
Salt and Pepper to taste
Fish sauce:
10 tablespoons Yamasa Soy,
10 tablespoons Honey,
1 teaspoon chopped Ginger,
1 chopped clove garlic,
1/4 cup Marin (Sweet Cooking Wine),
2 tablespoons Sake Wine (Japanese Wine),
1/2 teaspoon cornflour.
Preparation Method
How to prepare the Salad: Fill a pot with water and make it boil, add a little salt and blanch the asparagus strips for 5 seconds and  the carrot strips for 40 seconds and transfer immediately to ice water.  In a mixing bowl place the blanched Asparagus and Carrots, sliced Cherry Tomatoes and  Coriander leaves separated, season with lemon juice, salt, pepper and oil.
Preparation Method Of Sauce: Mix Cornflour with Sake wine until lump free mixture is obtained and set aside. Boil in a small saucepan the remaining sauce ingredients and cook for about 10 minutes. Thicken by adding the Cornflour mixture into the boiling pot, stirring, then reduce the heat and simmer for about 2 minutes and set aside.
How to prepare the Fish: Cut the salmon fillet into cubes of 2×2 cm and simmer in hot soy sauce for 3 minutes.  Remove by forceps, dip with pecans and serve immediately beside the salad. The rest of the sauce can be served alongside the salmon.