TCC CHAOKOH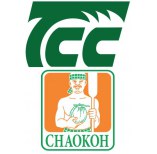 Theppadungporn Coconut… From Inception to present Glory.
The present growth of Theppadungporn Coconut Co. Ltd. in the food processing industry began over 50 years ago in 1946 when Mr. Ampol and Mrs. Jariporn Theppadungporn, an orchard farmer couple in Thonburi, decided to enter the coconut business by retail and wholesale coconut.
The present "Theppadungporn Coconut Company Limited (TCC)" began in 1976, as Udom Coconut Ltd. Part. Transformed her business from selling agricultural produces into food processing by establishing a food processing plant with the support from the Board of Investment of Thailand (BOI) on Phuttamonthon 4 Road, Sampran, Nakhon Pathom on the area of 28 rai. Ready-to-use pasteurized and sterilized coconut milk packed in plastic bags and tin can, as well as coconut milk powder were among the very first products of the company.
From that day till today, the Theppadungporn Co. Ltd. continuously expands their production facilities and diversifies their product varieties. At present, the company could produce various kinds of food products for at least 200 items to serve both domestic and international markets.