Classic Pad Thai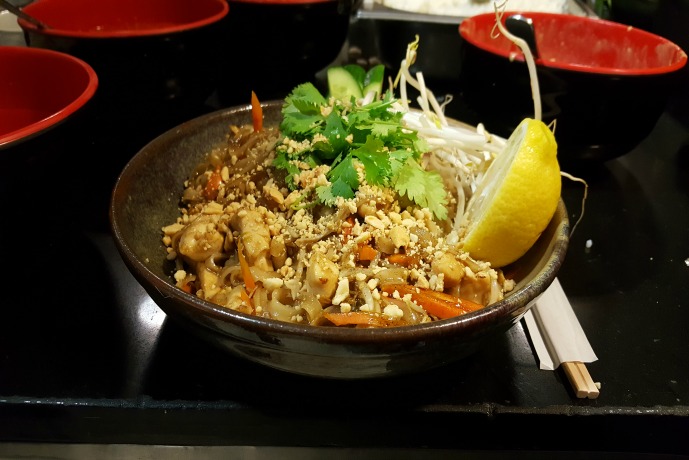 Ingredients
2 Carrots, sliced into thin strips (Julienne carrots)
1 Thinly sliced Onion
2 Green Hot Peppers (thinly sliced)
1 Mushroom packages (washed and cut into quarters)
5 Cloves Garlic (Sliced) Cup of Soy Sprouts
Coriander (half a bunch)
A handful of rice noodles (soaked in hot water and filtered)
Two Egg Omelette (cut into thick strips)
Frying Oil
2 Tablespoons Roasted Peanuts (coarsely chopped)
1 Lemon (cut into wedges)
A quarter bottle of Pad Thai sauce (Maxchup )
3 Tablespoons Yamasa Soy Sauce
Salt and Pepper
Preparation Method
Heat a wide frying pan / wok with a little oil over medium heat.
Fry garlic, onion, hot pepper 2 to 3 minutes.
Add carrots, sprouts and mushrooms and stir-fry for 5 minutes.
Add Pad Thai sauce, rice noodles and soy sauce, stir and cook for 5 minutes.
Seasoning with salt and pepper, add the strips of omelette,
Sprinkle chopped Coriander and Peanuts.
Serve hot with Lemon wedge and Yamasa Soy